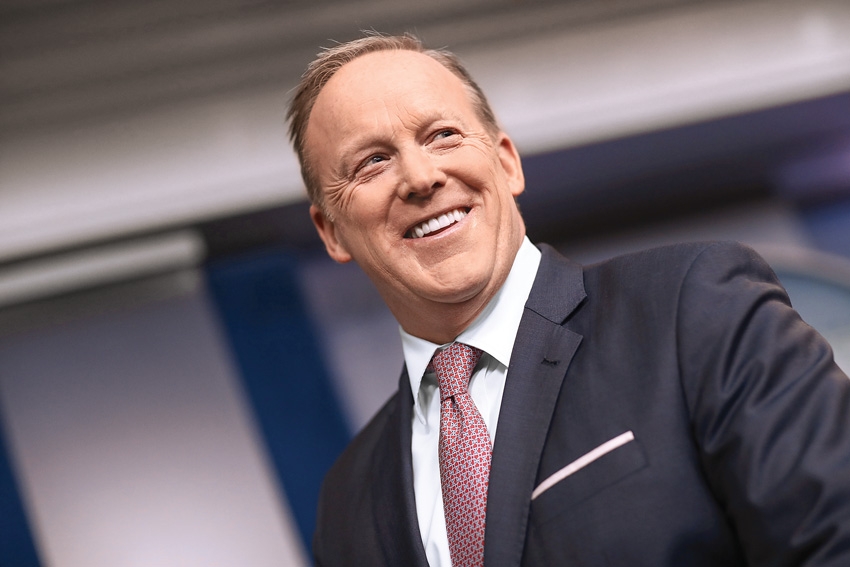 He's addressed the nation as White House Press Secretary and made it the quarterfinals on "Dancing with the Stars."
Now Sean Spicer is back talking directly to America with his new show — "Spicer & Co." — exclusively on Newsmax TV, America's fastest-growing cable news channel.
"Spicer & Co." just debuted and airs weekdays at 6 pm ET.
The Washington-based "Spicer & Co." features Sean and co-host Lyndsay Keith as they broadcast from studios near the White House.
Each day, Spicer and Keith lead an ensemble of Washington insiders, experts, journalists, and power brokers to analyze the top headlines from the Beltway and the key news from the U.S. and the world.
With the 2020 election here, Americans are hungry for real news, real information, and honest views about the events shaping our nation.
Bestselling author and respected commentator Sean Spicer is helping Americans become truly informed.
And Newsmax, described by Forbes as a "news powerhouse," is his platform.
Newsmax's audience reach is growing — up nearly 200 percent in overall reach since August 2019 — surpassing Bloomberg Television in total household reach, household coverage area rating, and average audience.
Viewers are responding big time . . . and so are advertisers.
Americans want something new. Fresh. Compelling. Real.
Newsmax TV is it — and now carried in more than
70 million U.S. homes via DirecTV 349, Xfinity 1115, Dish 216, Spectrum, Fios 615, Cox, Optimum 102, U-verse 1220, Suddenlink 102, WOW!, Armstrong, and dozens more systems and OTT platforms.
Newsmax TV targets highly-responsive Baby Boomers, one of the nation's largest demographic groups with the highest disposable income.
Check out Newsmax TV and "Spicer & Co." — catch this wave. Early. Ride it. Big time.